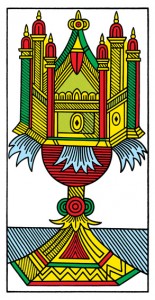 materials in this website (including the download page) are distributed under a Creative Commons by-nc-sa 3.0 international licence. this applies, of course, only to my own materials and not, for example, to pictures taken from wikipedia or the web.
basically, this means that you can use my texts and the CBD Tarot de marseille card pictures without special permission or payment, as long as you don't sell them for money, and provided that you give the appropriate credit and link to this site. for example, you can print the card illustrations for your personal use, or use them on your website, blog, online reading app and so on. you can also use them as materials for your own creations. in case of doubt, contact me.
the credit to be given:
for the card illustrations – CBD Tarot de Marseille by Dr. Yoav Ben-Dov, www.cbdtarot.com (with a clickable link when appropriate). you can change the exact formulation, but mention the name of the cards, my name and this website address.
for texts – by Dr. Yoav Ben-Dov, www.cbdtarot.com (same as above).
see here for the exact legal terms:

Creative Commons by-nc-sa 3.0 license