Tarot – The Open Reading
a general introduction to the Tarot cards, a practical guide to the "Open Reading" method (focusing on the look and feel of the cards rather than on fixed interpretations), and a detailed handbook for the classic version of the Tarot deck, the Tarot de Marseille.
what's in the book?
a practical reading guide, interpretations, spreads, examples, tables, history, philosophy, symbols, mythology, even some physics.. see more here.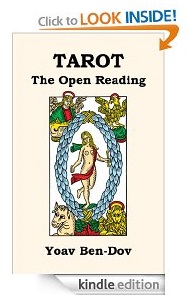 Tarot – The Open Reading is now available at the Amazon website, in paperback or electronic (Kindle) edition.
an electronic version is also available through Smashwords.
for samples and selections, see the clickable items in the Table of Contents.
you can also read the first part, and many good reviews, in the Amazon.com or Amazon.co.uk websites.
The Book is also available in Hebrew and in Russian. click for details.
.